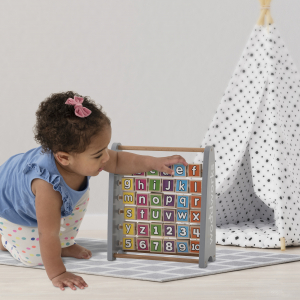 Wooden toys have grown in popularity in recent years, with an increased focus on sustainability from both consumers and retailers. Our range of wooden toys continues to grow this season, both through  licensed role play and Woodworks pocket money ranges. With each product made from FSC approved wood, our wooden toys are a great environmentally-friendly solution for retailers.
Having recently announced our latest partnership with BBC Studios for the #1 new pre-school toy property, Bluey, we are excited to introduce their range of Bluey wooden toys. Children can cook up a treat with the Wooden BBQ, Kitchen, or Lil' Muddy Kitchen, all supplied in a delightful colour palette that will be familiar with fans of the show, and each featuring Bluey and the rest of the Heeler family. The toys are supplied with accessories to fit their theme, such as the stackable wooden food and kebab sticks supplied with the BBQ, pan, spoon, fork and spatula with the Kitchen, and metal sink, ladle and whisk with the Mud Kitchen. Children will have hours of fun with the new Bluey range from HTI Toys!
Fans of lovable Duggee and the squirrels will adore the range of Hey Duggee wooden toys. This range comprises of six fun, bright toys including kitchens, Mud Kitchens, a Workbench and a Market Stall. Designed to look just like Duggee's Clubhouse from the show, the Clubhouse Kitchen features a fridge, oven and washing machine, making it the perfect toy for housekeeping role play. For those looking for a slightly smaller kitchen, the brand new Wooden Kitchen is the perfect solution. Perfect for imaginative play, this kitchen features a cupboard and shelves, a sink, tap and wooden accessories. Creative pre-schoolers can prepare for DIY fun with the Wooden Workbench, supplied with a range of wooden tools and accessories including a hammer, screwdriver, spanner, saw, and various nuts and bolts.
The highly popular Peppa Pig Mud Kitchen is back for another season. Encourage children to explore the outdoor world and make mud creations with this wooden kitchen, supplied in a pink colourway. Features include an oven with opening door, two shelves, clicking knobs and three hobs. The Mud Kitchen is supported with a lifestyle demo video to show functionality, and of course highlight the fun that children can have with this toy.
The Woodworks range has seen significant investment in recent years, with expansion and innovation continued each season. Both affordable and educational, the range includes classic wooden toys with key on-trend themes. New for this season, the Jungle Puzzles are certain to be a hit with youngsters, and will help improve hand and eye coordination. The puzzles are supplied in an assortment of four recognisable jungle animals, including a lion, zebra, elephant and monkey, adding educational value.
Choose from several Chunky Puzzles, with themes including dinosaurs, enchanted characters, vehicles, farm, adventure and underwater, or opt for classic Wooden Jigsaws, supplied in a wooden storage box, perfect for pack away play.